Stroke Frequency/Tempo-Velocity
Distance Per Stroke Relationships
Increase Your Propelling Efficiency
---
Race With Confidence Using the Correct Stroke Frequency
Exported directly from our Velocity Meter/Video Telemetry, swim your next race with the confidence using the correct stroke frequency/tempo. In addition, this Stroke Graph can be used in conjunction with any swimming metronome, and will make your next practice the most productive yet! Racing at the ideal stroke frequency is vital for conserving energy, no matter what the stroke or distance, but is particularly useful for open water swimmers and triathletes.
All swimmers achieve their velocity from technique in distinctly different ways, and those differences are as unique as a fingerprint. Because of those differences, even the amount of force most believed separated good from elite swimmers, using modern measuring techniques, is now up for debate. Never guess again what the correct stroke frequency is for your next race.
Training Using Stroke Frequency Velocity Relationships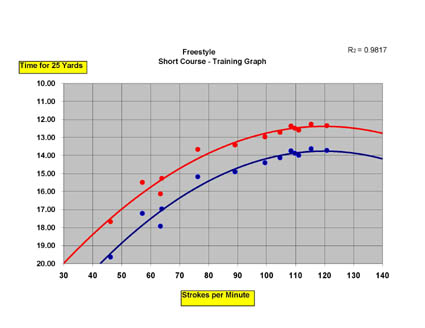 It has been proven that developing good stroke technique habits early in a swimmers career is very beneficial as a swimmer matures. The optimization of these parameters have shown to produce constant improvement in all ages of swimmers. In the practical application of this information, workouts are developed in conjunction with this information to let swimmers simulate race conditions. This allows the swimmers to practice the various components necessary to improve their individual performances. Whether you train alone, or with a coach, using one of our stroke graphs will consistently let you check if your stroke is improving.
---
The History Of Stroke Frequency Measurement (Tempo)
This particular test originated here in Buffalo, NY where it was further developed and refined. The relationship between stroke frequency (tempo) and velocity were first discovered and researched at the University at Buffalo by professors Dr. David Pendergast and Dr. Al Craig. (University of Rochester) These relationships were later confirmed by an analysis of the 1976 and 1984 Olympic Trials conducted by Dr. Al Craig. It was revealed that for all strokes and distances, the mean difference in stroking characteristics was almost 10% percent between those that finished in the top three verses those that finished 4th through 8th. Since then, various studies on the technique of swimming have revealed that swimmers with superior technique actually exert less force and have lower drag in the water then less skilled swimmers. In addition, the energy cost associated with swimming using superior or improved technique is reduced.
Velocity, Stroke Frequency and Distance During Elite Competition – Original Investigation
Next, Craig and Pendergast defined the relationships that exist between stroke frequency,(tempo) distance per stroke, and it's effect on velocity. These two studies served as the baseline for modern stroke technique measurement, and race analysis. These two investigations clearly demonstrate the technical components of elite swimmers in competition. It also demonstrates the differences that exist even in elite swimmers, and how the velocity is generated using technique.
Relationships of Stroke Rate, Velocity, and Distance Per Stroke
For 15 years, University at Buffalo Swimming Coach Budd Termin and Dr. Pendergast have not only advanced the knowledge base on these relationships, but the dramatic effect on the energy cost associated with improved technique. Subjects for all of these studies were Division I level collegiate swimmers, at one of the worlds best swimming testing facilities, located on the campus of the University at Buffalo. This training paper also expands how "stroke curves" can be used in a practical way for the coach and athlete in practice, and performance benefits in competition that are twice what is normally reported as typical improvement.
Physiological Response to High Intensity Training In Competitive University Swimmers – Journal of Swimming Research