They include personal trainers, nutritionists, and sports psychologists
TeamTermin Technique Improvement Technology
Give your team the latest advantage by bringing TeamTermin to your next practice, camp or instructional clinic to help enhance the performance and improvement of your swimmers. We work seamlessly with the coaches and athletes and simply enhance the improvement process. Our Velocity Meter/Video Telemetry allows for play back and magnification at any speed, while our simultaneous Velocity Telemetry allows the coaches to objectively view where necessary changes in technique need to be made. And because the feedback is instantaneous, the athlete can go right back and do the activity again for comparison.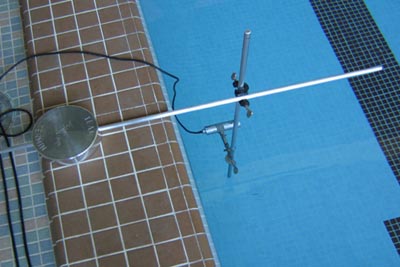 We bring all the equipment needed to capture, and analyze your athlete's performance. Our special sports software not only captures all the action, but is the only software package that allows for instant video replay. The feedback is immediate, and is essential to the learning process.
Afterward, we burn you a high quality DVD of everything we captured. We can separate the video onto separate DVD's for each person and a master copy for the coaches.
---
Below is a list of quality clients we have already worked with:
Canadian Sports Hall of Fame – Velocity Meter/Video Telemetry exhibit in the Science of Sport Gallery
Georgia Holderness – 2008 U.K. Olympic Trials 200 Breaststroke Champion
The Race Club
Councilman Center for the Science of Swimming – Indiana University
Wyoming Valley West High School – Plymouth, PA
Sweden National Swimming Team
Univ. of San Diego Women's Swimming Program
Magnus Group Swim Club
Buffalo State College Men's & Women's Swimming Program
ADINSTRUMENTS
TYR Sports
USA Soccer
Univ. of Rochester Sports Medicine
Winthrop University Physical Education Department
SUNY Cortland Sports Management Department
Erie County Community College Physical Education Department
Atlantic 10 Conference
Section VI Boys and Girls Swimming Championships
---
Flexible arrangements can be made to enhance your next practice, camp or instructional clinic. For team applications, have TeamTermin come on a monthly basis across your season to add consistency to your program. Let TeamTermin be your Team Video Specialist . . . and watch the improvement and your results begin.
For any of the above applications, contact us at: termin@teamtermin.com
---